COSMO History
COSMO has many years experience of bag making machines. We still willing to have much more improvement and all the consumers are satisfied with the quality of machines offer to you.
COSMO Machinery has been founded in March 2001. COSMO has been well-known as a professional manufacturer of wide rage of plastic bag making machines from Taiwan. We provide top & stable - quality machines at a reasonable price & best services. To date, COSMO has delivered more than 5,000 machines to more than 90S nations. The machines are equipped with servo driven system under fully control of top - grade PLC ( Programmable logic controller ) over the whole achieve production efficiency. Furthermore, all components are from respectable brands to ensure the strictest quality. The company was certified ISO 9001 and CE standard in the year of 2006.
2020

New model machines are being introduced such as glove making machine, auto packaging machine, air column/cushion bag making machine

2017

Exported to 90 countries spreading all over the world.

2006

COSMO was certified ISO 9001 and CE standard

2001

Moved to Taipei and changed the name to Cosmo.

1988

Established Throne Machinery Co., Ltd. in Changhua.
Global Market
More than 3,500 COSMO machines, operating in over 100 countries worldwide..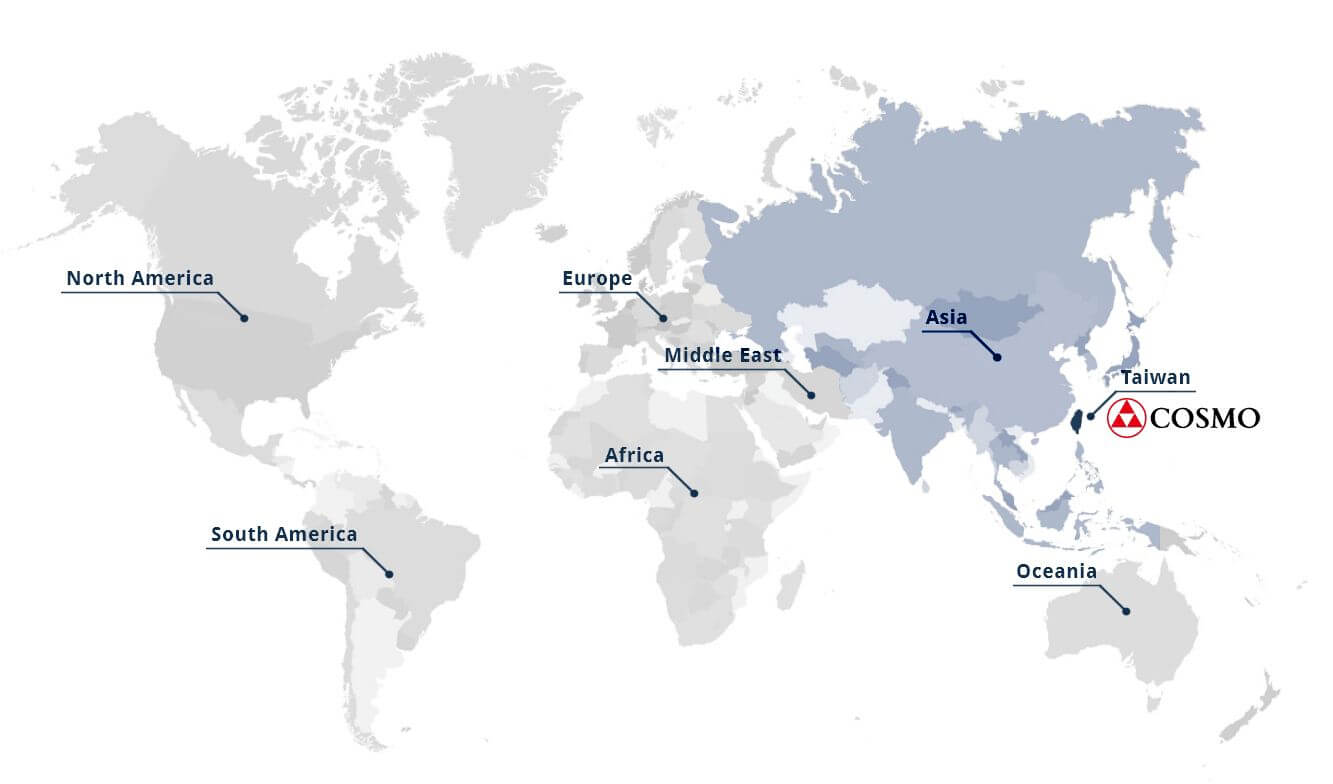 Asia
Bangladesh、Bhutan、Brunei、Cambodia、China、Hong Kong、India、Indonesia、Japan、Laos、Macau、Malaysia、Maldives、Mongolia、Myanmar、Nepal、North Korea、Palestine、Philippines、Russia、Singapore、South Korea、Sri Lanka、Taiwan、Thailand、Turkey、Uzbekistan、Vietnam
Afghanistan、Armenia、Azerbaijan、Bahrain、Comoros、Cyprus、Djibouti、Egypt、Eritrea、Georgia、Iran、Iraq、Israel、Jordan、Kazakhstan、Kuwait、Kyrgyzstan、Lebanon、Mauritania、Oman、Pakistan、Qatar、Saudi Arabia、Somalia、Sudan、Syria、Tajikistan、Tunisia、Turkmenistan、United Arab Emirates、Yemen
Algeria、Angola、Benin、Botswana、Burkina Faso、Burundi、Cameroon、Cape Verde、Central Afr. Rep.、Chad、Congo、Equatorial Guinea、Ethiopia、Gabon、Gambia、Ghana、Guinea、Guinea-Bissau、Ivory Coast、Kenya、Lesotho、Liberia、Libya、Madagascar、Malawi、Mali、Mauritius、Morocco、Mozambique、Namibia、Niger、Nigeria、Rwanda、Sao Tome Principe、Senegal、Seychelles、Sierra Leone、South Africa、Swaziland、Tanzania、Togo、Uganda、Western Sahara、Zambia、Zimbabwe
Bahamas、Barbados、Belize、Bermuda、Canada、Cayman Islands、Costa Rica、Cuba、Dom. Republic、Dominica、El Salvador、Grenada、Guadeloupe、Guatemala、Haiti、Honduras、Jamaica、Martinique、Mexico、Netherlands Antilles、Nicaragua、Panama、St. Kitts Nevis、St. Lucia、St. Vincent the Grenadines、Turks and Caicos Islands、United States
Argentina、Aruba、Bolivia、Brazil、Chile、Colombia、Ecuador、French Guiana、Guyana、Paraguay、Peru、Suriname、Trinidad and Tobago、Uruguay、Venezuela
Albania、Andorra、Antigua and Barbuda、Austria、Belarus、Belgium、Bosnia Herzegovina、Bulgaria、Croatia、Czech Republic、Denmark、Estonia、Finland、France、Germany、Gibraltar、Greece、Hungary、Iceland、Ireland、Italy、Jersey、Latvia、Liechtenstein、Lithuania、Luxembourg、Macedonia、Malta、Moldova、Monaco、Netherlands、Norway、Poland、Portugal、Romania、San Marino、Serbia Montenegro、Slovakia、Slovenia、Spain、Sweden、Switzerland、Ukraine、United Kingdom
Australia、Fiji、New Zealand